SONOST-2000

SONOST-2000 is a compact quantitative ultrasound(QUS) bone mineral densitometer (BMD) with an easy, quick, simple and safe measurement.
Description
Quantitative Ultrasound (QUS) Bone Mineral Densitometer
Easy & Quick & Simple & Safe Measurement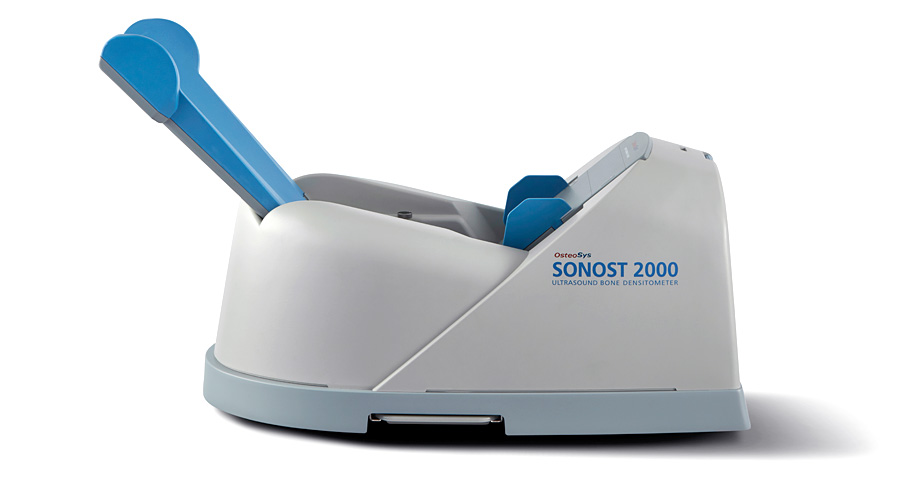 SONOST-2000 is a dry mode ultrasound bone densitometry that boasts a quick measuring speed of 15 seconds, easy operation and high durability. Its compact design makes it portable enough to use with a laptop anywhere.
Dry-type Ultrasound BMD with No Radiation

SONOST-2000 is a dry-type ultrasound bone densitometry which is free of the radiation. It enables a swift and easy measurement of Calcaneus by calculating the sound of speed (SOS) and Broadband Ultrasound Attenuation (BUA). Due to its compact design, you can use SONOST-2000 with a laptop for your portable measurement.
SOS and BUA for Measurement of BMD

The ultrasound pulse passing through the bones is significantly attenuated with diffusing signals and absorption by the spongy tissues. And QUS bone mineral density is calculated by SOS and BUA, the data obtained from a density differentiating process of sponge tissues.
Specification
Measurement Type
Ultrasound
Measurement site
Calcaneus (Heel)
Measured parameter
T-score, Z-score, SOS, BUA, BQI index
Reproducibility
SOS – ≤ 1% CV
BUA – ≤ 2% CV
QC check
Daily QC phantom
Dimension
(W)523mm × (D)286mm × (H)254mm (Calf supporter folded)
(W)523mm × (D)286mm × (H)254mm
Weight
7.8kg
Article
QUS: SONOST-2000

Article
Awareness and Risk Factors Of osteoporosis among Elderly People in a Community in Shanghai
Source
Journal: CHINESE PRIMARY HEALTH CARE Vol 33,No.1 Jan,2019
Issued Year: 2019
Source: http://www.chinadoi.cn/portal/mr.action?doi=10.3969/j.issn.1001-568X.2019.01.0009
QUS: SONOST-2000

Article
Сomparative Evaluation of Bone Mineral Density Based upon the Results of Ultrasound Osteodensitometry, X-ray Osteodensitometry, and Dual-Energy X-ray Absorptiometry Tests in Premenopausal Women with Systemic Lupus Erythematosus
Source
Journal: Львівський клінічний вісник, № 1 (17) 2017
Issued Year: 2017
QUS: SONOST-2000

Article
A Study of Eating Disorder and Bone Mineral Density in Ballerinas
Source
Journal: Official Journal of the Korean Society of Dance Science 2012, Vol.27, pp.181~191
Issued Year: 2012
Download
[Catalog] SONOST-2000

File size : 429.34 KB ㅣ Date : 2022-12-21 07:16:36