NPT-Sonicure

NPT-Sonicure is the next generation ESWT based on digital array control technology. It's digital concept goes beyond the traditional analog method.
Description
Next Generation ESWT : NPT-Sonicure
World First 3D Dynamic Focusing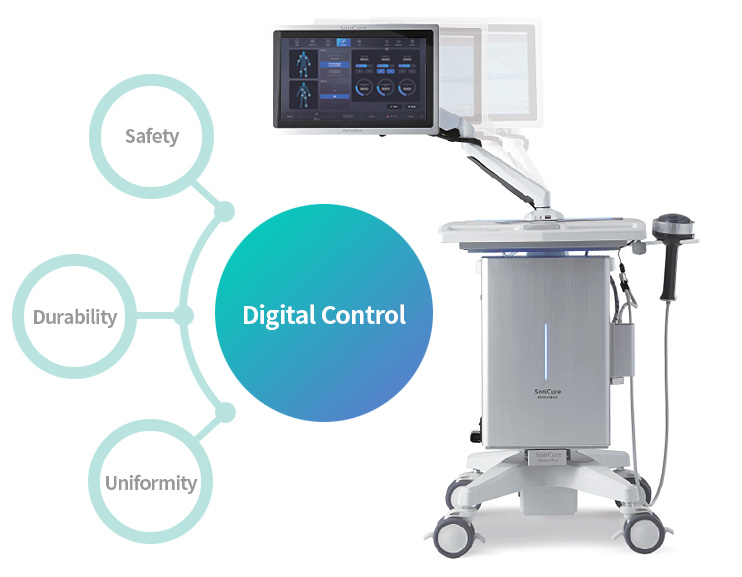 NPT-Sonicure is the next generation ESWT based in digital array control technology.
NPT-Sonicure opens up the future of ESWT that was unimaginable in the analog based traditional ESWT technology
Software based Depth Adjustment: No need to Replace Gel Pad Anymore

NPT-Sonicure's focusing depth is adjusted by software without replacing the gel pad. You can easily change focusing depth in 3D from the user-specified range.

3D Focusing Technology with Less Pain

Due to its 3D focusing technology, NPT-Sonicure offers you with a pain-free treatment on the skin surface.
User Friendly GUI: Normal Mode and Expert Mode

NPT-Sonicure will support you with a user friendly GUI presenting various treatment environments such as normal mode and expert mode.

Light-weighted, Reflectionless Transducer & Symptom-specific Treatment Protocols

Also, its built-in symptom-specific treatment protocol and light weight, reflectionless transducer greatly helps the operator with the easier and comfortable treatment process.
Basic Principles of Extracorporeal Shock Wave Therapy(ESWT) System
– Vacuum bubbles in the calcified area is generated by sound waves and the calcified area is softened and absorbed into the body.

– By shock waves being applied to the pain area, blood flow in the affected area is increased and inflammation is ameliorated, as a result, tendons, surrounding tissues and bones heal quickly.

– Reducing pain by transmitting shock energy waves to pain triggering tissues which result in a decreased level of neurotransmitters.

– Promoting capillary reformation and improving metabolism & blood circulation.
Legs

Achillodynia
Plantar Fasciitis
Tibial Anterior syndrome
Gonarthrosis
Osgood Schlatter disease
Patellar tendonitis

Arms

Carpal Tunnel Syndrome
Golfer/Tennis Elbow
Ulnar humeral Epicondylitis

Shoulder

Calcific Tendonitis
Periarticular Shoulder pain
Shoulder impingement syndrome

Hip Joint

Femoral Muscles Pain
Trochanteric Tendonitis
Specification
| | |
| --- | --- |
| Max. acoustic pressure | 80Mpa |
| Energy density | 0.96mJ/mm2 |
| Penetration depth | 60mm |
| Depth | 0~60mm |
| Energy level | 20steps (levels) |
| PRF | Max. 30Hz |
| External interface | HDMI, USB, Ethernet |
Download
[Catalog] NPT-SoniCure

File size : 222.24 KB ㅣ Date : 2023-03-29 07:57:55