MECP

MECP is a non-invasive EECP based device with the innovative upgrade of usability with lower noise and higher mobility than traditional EECP devices.
Description
Innovation from ECP to MECP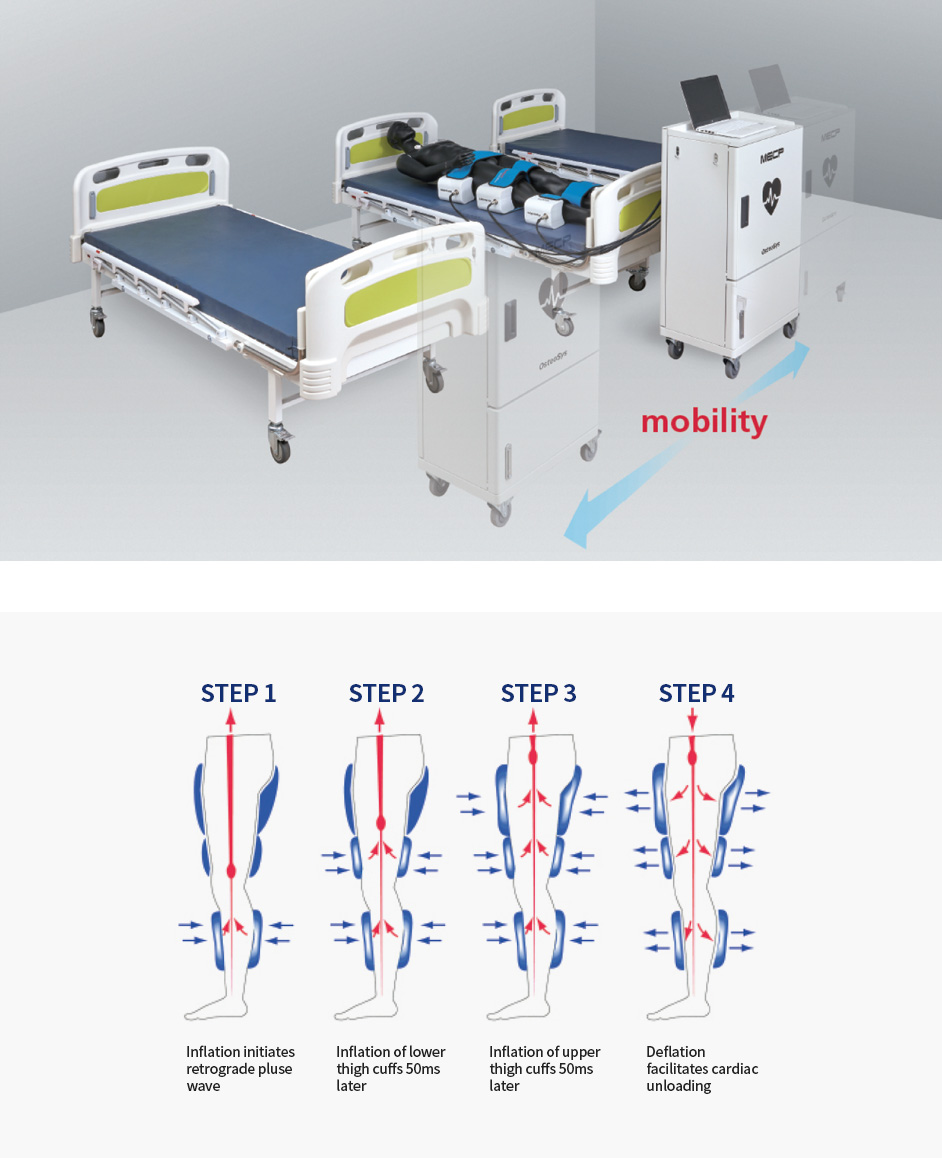 External Counter Pulsation (ECP) is a safe blood circulation therapy that treats cardiovascular disease without surgery.
MECP for Lower Noise and Higher Mobility than ECP

MECP is a portable ECP device that drastically reduces the noise of previous ECP equipment.

Specification
Dimensions
(W)1095mm × (D)513mm × (H)360mm
Dimensions(for Pressing Device)
(W)170mm × (D)120mm × (H)134mm
Weight
95.6 kg
Input voltage
220V – 240V, Free Voltage (Single Phase)
Pressure arrange
0 ~ 59kPa (440 mmHg)
Operating system
Windows
Display
ECG, PPG waveform, Press start/release, Pressure value, Heart rate, D/S ratio, Remaining treatment time
Setting function
ECG, PPG amplitude, Press start/release time, Pressure value, Treatment time, Scan speed, Trigger ratio
Trigger
(1) Internal trigger : 10 to 170bpm simulated square wave creation
(2) External trigger : R wave of patient ECG
ECG display range
35~125 ± 2 bpm
Pressure
Pressure range : 0 ~ 59kPa,
Cuff pressure interval: 55ms ± 10ms
Noise
60dB below (Quiet cafe level)
Patient protection
(Automatic pressure release)
in case of
Detection of arrhythmia or abnormal activity
Pressure over 59 kPa
ECG electrode decreasing during treatment
Patient protection
(Automatic treatment interruption
and pressure release) in case of
Power failure
Heart rate beyond the normal range of 35 ~ 125 bpm
Emergency stop button is provided