EXA-3000

EXA-3000 is a peripheral Dual X-ray Absorptiometry (pDXA) device with its multi-site diagnosis function (forearm and calcaneus).
Description
Peripheral Dual-energy X-ray Absorptiometry(pDXA)
Easy to Measure Multi-site Scan with Quick Scanning Time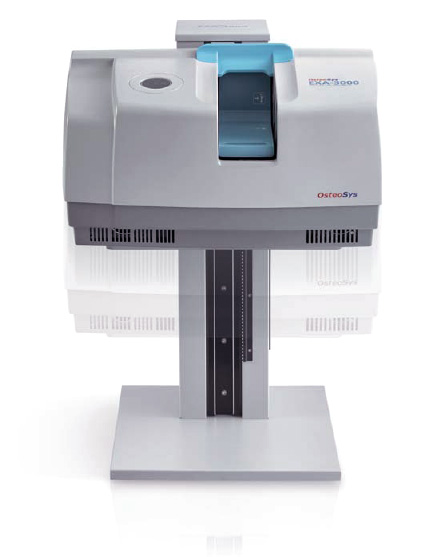 EXA-3000 is especially designed for scanning forearm and calcaneus of patient by DXA(Dual energy X-ray absorptiometry) technology. It is fastest BMD(Bone Mineral Densitometry) in the world. The lifter, optional item it's specifically designed for EXA-3000 makes easy to lift up and down and it allows a patient to be more comfortable.
Precise BMD Results for Forearm and
Calcaneus

EXA-3000 is specially designed for an easy and swift scanning of forearm and calcaneus. We guarantee a precise result with DXA technology.

pDXA with a Cone Beam Technology

Also, it is possible for you to diagnose precisely with a low level of radiation by DXA with a cone beam technology.
Easy Operation and User-Friendly Interface

The easy operation and user-friendly interface of EXA-3000 offers you with the special result report suggesting a follow-up test and relevant treatment.

Optional Lifer for Forearm and Calcaneus

If you utilize the lifter, which is an optional item for an easier lifting up and down of the device, you can measure the two different areas(calcaneus and forearm) with one device more conveniently.
Specification
Measurement Type
pDXA (Peripheral Dual energy X-ray Absorptiometry)
Measurement Method
Cone beam
Scan site
Forearm, Calcaneus
Scan time
Forearm – 5 Sec. / Calcaneus – 5 Sec.
Reproducibility
≤ 1.0% C.V.
Measured parameter
T-score, Z-score, BMD, BMC ratio of T-score and Z-score
Pediatrics / Trend report / DICOM & PACS / GDP (Growth Diagnosis Program) *Optional
QC check (Daily QC phantom)
Dimension
(W)410mm × (D)670mm × (H)373mm
Weight
34.5kg
Power consumption
100~240VAC, 50~60Hz
Lifter(Optional)
Dimension – (W)654mm × (D)480mm × (H)88mm
Weight – 36kg