OsteoSys pioneers bone densitometer market for lab animals
Date : 2023-09-14 11:03:15 ㅣ Read : 409
OsteoSys pioneers bone densitometer market for lab animals
The Korean bone densitometer maker aims to overtake GE as the world's No. 1 player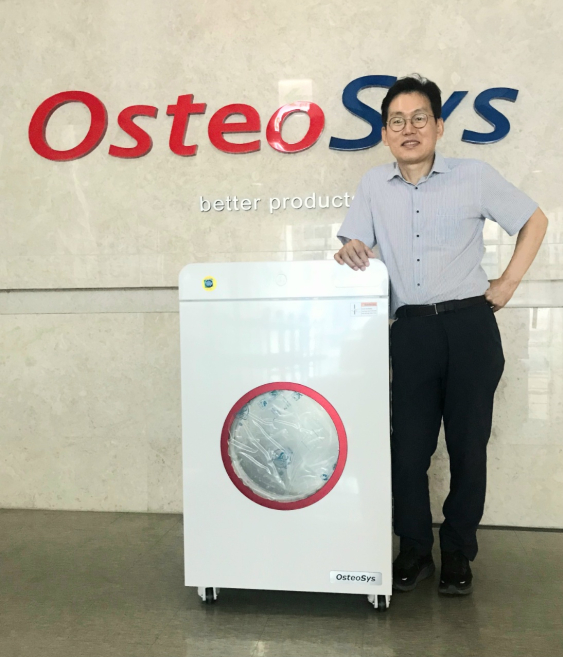 South Korea-based OsteoSys Corp. aims to become the world's leading player in the bone densitometry market backed by its portfolio of high-tech bone mineral density scan machines that are used to diagnose osteoporosis as well as scanning lab animals to help researchers study body composition.
Osteoporosis is often referred to as a 'silent killer' because it has no distinct symptoms. There are around 1 million patients in Korea and around 200 million patients worldwide suffering from the disease. Currently, the global bone densitometers market size stands at around 1 trillion won ($845.6 million), logging an annual 4% growth rate.
Unlike the general medical device market which is dominated by global companies, Korea's OsteoSys is one of the top three manufacturers of bone densitometry products alongside US-based General Electric and Hologic. OsteoSys currently exports its products to around 98 countries.
Founded in 2000, OsteoSys has been committed to developing bone density machines for the past two decades. The company's Chief Executive Ahn Young-bok was working as a professor at Konkuk University when he was approached by the late Medison Chairman Lee Min-hwa to develop bone mineral density machines. Lee and Ahn had been colleagues at the country's top science and engineering university, Korea Advanced Institute of Science and Technology (KAIST)
Together, they worked to develop and produce bone densitometers, which were all imported at the time. In 2009, OsteoSys first released its dual-energy x-ray absorptiometry (DEXA) machine which offered higher precision than the previous ultrasound method.
In 2015, the company emerged as a competitor to bigger rivals GE and Hologic when it released a whole-body DXA machine offering body composition analysis. OsteoSys' sold its products at a lower cost, credited with helping commercialize bone mineral density machines globally.
Next year, OsteoSys will unveil a new device that minimizes the X-ray exposure time. The company is hoping to overtake its rivals with its safer and speedier scan method given that the new device will be able to analyze bone mineral density, muscle mass and fat mass all in just three minutes, an impressive development considering that existing products take over 10 minutes.
PIONEERING A FRESH MARKET
Last year, OsteoSys pioneered a new market as it became the world's first company to mass produce a bone densitometer for lab animals.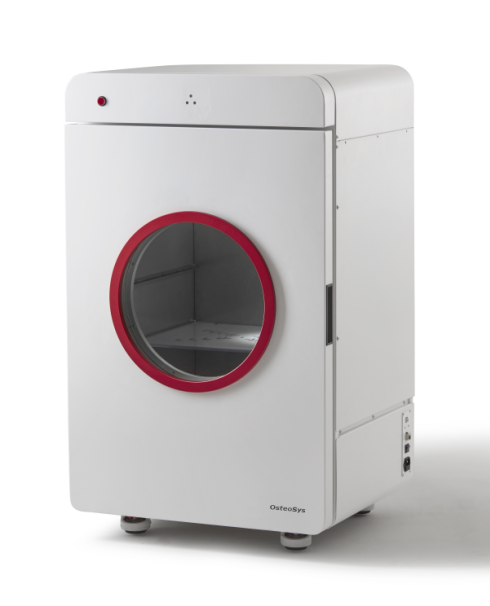 Animal models are used in preclinical trials which are mandatory in the development process of vaccines, treatments and pharmaceuticals. And often, preclinical testing requires animal dissection, which can be prevented through OsteoSys' products. Due to this, OsteoSys has been lauded for introducing an animal-friendly product that minimizes the sacrifice of lab animals.
OsteoSys' products were also used for the National Aeronautics and Space Administration (NASA) project which measured bone mineral density and muscle mass of lab rats in space.
The company has exported its products to the Mount Sinai Hospital in New York, the University of Tokyo and New York University. OsteoSys is also set to supply its products to Harvard University and Kyoto University.
"We expect our machines to become essential in labs, pharmaceutical companies and universities," said CEO Ahn, adding that the company aims to be the No. 1 player in the global bone densitometer market for humans as well as preclinical studies and veterinary use.